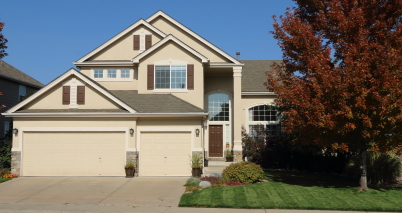 The place that has a way of eating up a lot of our time - but we love it - a beautiful view of the Colorado Rockies and a great neighborhood.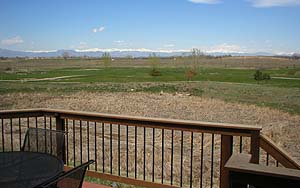 Here is a view off of our deck. We are fortunate enough right now to have a view of a golf course with the Rocky Mountains in the background.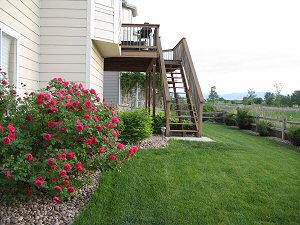 We are finally finished with all of our outside landscaping and can now enjoy our new deck and yard on those beautiful sunny Colorado days and evenings.
We've been here for over nine years - it is crazy how fast time goes by. Slow but sure, we are making our house into a home - one room at a time! Here's a mini tour of our humble adobe...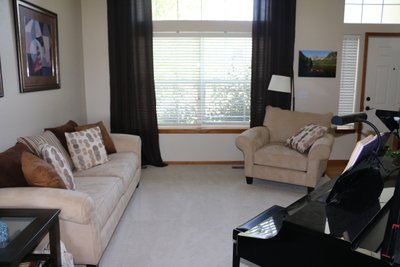 As you walk in the front door, immediately to your right is our living room. We finally acquired the piano that Tami has always wanted. It isn't a real piano, but it is a very nice digital piano that sounds fabulous.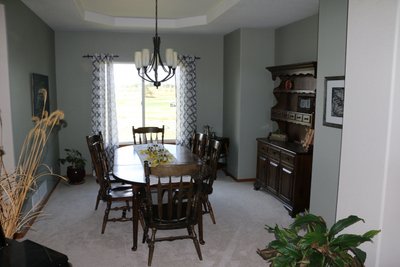 Just past the living room is the dining room. This room is once again used for eating. For a couple of years it was used as the kids playroom. Now all that is left for them is a play kitchen in the corner.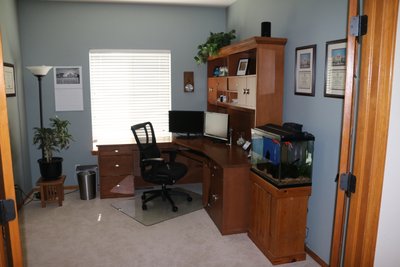 Then there's our office. This is the room where we do things like work on this website and sometimes work remotely for our jobs.
The kitchen and family room - where we enjoy much of our time. An extra large kitchen for Tami to satisfy her constant experimentation with new recipes and Brad's patience to never be able to eat the same thing twice!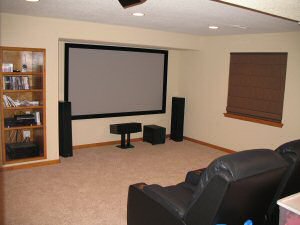 We finally finished our basement. One of the rooms we most enjoy is our media room. This is where we enjoy watching movies, football, and playing the Wii or PS3. This is also known as "Daddy's area".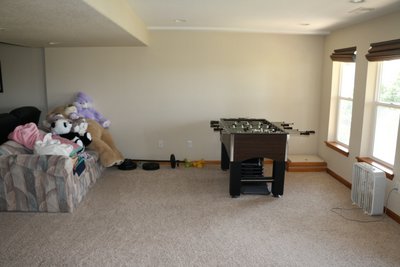 In the basement we also have a playroom for the kids. We hope in the future to turn this into a pool room, but for now, it is a great area for the kids to spend their time.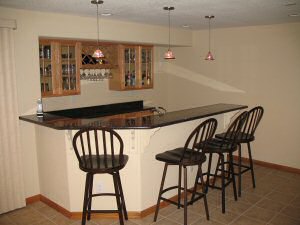 Although not used a lot, the last room in the basement is the bar. We decided it went well with the whole theme of just having fun in the basement...